We believe children thrive when families thrive.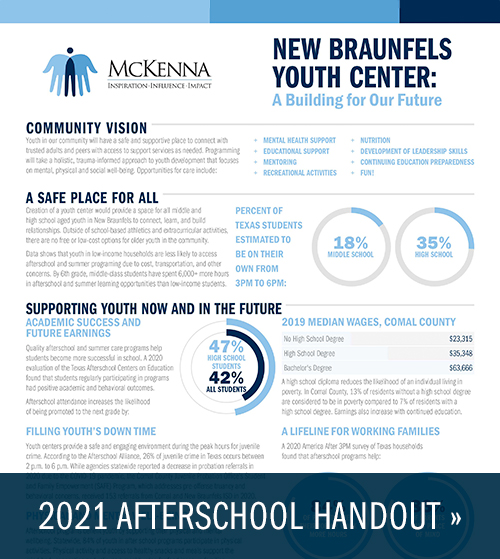 The first years of a child's life are critical to positive development and provide the foundation for success in school and life. To foster this development all children need a safe, nurturing environment paired with enriching experiences in their home, childcare, and community from infancy to adulthood. Because we believe a family's most basic role is to provide for their children's health, safety, security, and emotional well-being, McKenna supports a continuum of services addressing basic needs, mental and physical health, and family enrichment. Increasing access points ensures our community's services are available when most critical, resulting in adults who are more competent in their roles as nurturers, teachers, and advocates during early childhood. Children who enter school with early precursor skills, aided by exposure to enriching preschool environments, are more likely than their peers to experience later academic success.
History of Influence
Parents As Teachers (PAT) at SRJC-Texas
For over 15 years, McKenna operated a successful PAT program targeting high-risk families with children three and younger. The PAT program served over 1,500 local families during that time with targeted, research-based parenting support, information on development, and parenting tips to ensure each child is healthy, safe, and thriving. In 2020 McKenna executed a strategic partnership with SJRC-Texas to relocate and expand the PAT impact. Joining an array of high-quality programs serving children and families, the PAT program continues to flourish at SJRC Texas while helping families prepare young children for success in school and beyond.
Parent Mentoring Pilot-Chosen Inc
A previous provider of financial assistance for adoption, in 2015 Chosen began surveying post-adoption families in an effort to track the outcomes of their assistance. They uncovered a disturbing trend; adoptive parents do not always have adequate preparation or post-adoption support to ensure a successful outcome. Spurred on the reality that 53% of parents felt under-equipped to meet the needs of their adopted child, McKenna helped fund Chosen's pilot program in 2017. The pilot delivered a research based, professionally supported, trauma informed mentoring model. It continues today with a record of zero disrupted adoptions among participating families.
A New Lease on Life-Family Promise of Greater New Braunfels (FPGNB)
Two years after funding the creation of a shelter program for families with children, McKenna again partnered with FPGNB to addresses ongoing clients' needs post-graduation. A New Lease on Life provides regular case management services along with a variety of life skills classes addressing employment, child care, parenting, vehicle maintenance, money management, education, healthy relationships, and tenant education. This after-shelter care program assists in the success of longer-term housing stability.
Program Launch-RecoveryWerks!
In 2017, after two years of visioning and start up support, McKenna provided the seed funding for the first teen centered substance misuse recovery program in Comal County. For decades, addiction recovery services were minimal in our area and almost nonexistent for teens and their families. RecoveryWerks! designed a program supported by behavioral health best practices and licensed, experienced staff. By helping create a visible recovery presence in the community RecoveryWerks! and McKenna opened a conversation about the positive effects of recovery and began to address the shame and stigma that often prevents families from seeking the help they need.
Sports and Recreation for Children with Special Needs-Kinetic Kids, Inc
Before Kinetic Kids established a presence in Comal County, there were very limited opportunities for children with special needs to participate in organized sports and recreation. The Kinetic Kids program model is unique in design as all classes and teams are run by physical, occupational or recreation therapists. Volunteers (parents and community members) are used to offer one-to-one support during the sports activity. This ensures each child's individual needs are addressed and each player advances their skill or participation level which provides life-changing experiences for children and families.
ROI and Outcomes
Experiences create the building blocks for early development.
McKenna understands the high positive correlation between Early Childhood Development programs (ECD) and improved social outcomes. Families and children who have access to quality, enriching experiences in safe and nurturing environments experience fewer interactions with the social welfare system, mental health services and juvenile justice. Stated simply, dollars invested in healthy families are dollars saved in remedial services down the road. Combined together, the McKenna Children's Museum and the McKenna Foundation's vision and leadership in developing the community's network of family support efforts offers a powerful and unique blend of evidence-based intervention, education and entertainment to inspire and support families from all walks of life.
It's about thriving, not just surviving
Economic instability can inhibit upward mobility or planned decisions due to the need to balance work and family responsibilities. The emblematic "American Dream" of social and economic mobility requires repeated upward movements in education, income, or occupational status.
Families
• Parents obtain family supporting jobs
• Decreased dependence on public assistance
• Increased educational achievement
• Lower household debt
• Increased savings and credit scores
• Decreased cycles of crisis
• Improved mental health
Children
• Achievement of developmental milestones
• Social, behavioral, emotional and physical readiness to thrive in formal schooling
Community
• Increased access to high quality childcare
• Robust social support networks
• Increased participation in enrichment and learning opportunities