THE ISSUE
Mental health issues are more common than you think.
There's no shame in a person admitting they are being affected by a mental disorder. Currently, more than 16,000 people in the greater New Braunfels area are living with some degree of mental illness. The good news is that mental disorders are very common, and very treatable.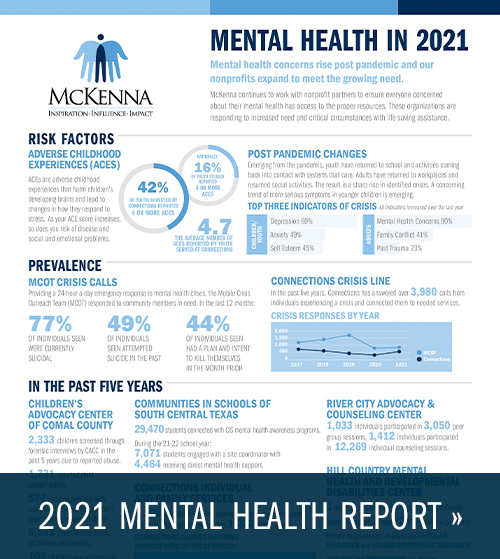 Critical Needs:
Crisis services, inclusive of both inpatient stabilization and
outpatient emergency intervention services
Mental and behavioral health services for teens and young adults with
school-based and student engagement opportunities
Parent education focused on identification and early intervention
Qualified psychiatrists, nurse practitioners, licensed social workers and
counselors to create a continuum of services
Local inpatient treatment options, either through recruiting new providers or
establishing treatment beds through local hospitals
Integrated treatment programs for those dealing with dual
diagnosis issues (mental health and substance abuse).
Community education and advocacy to ensure successful prevention,
early identification and intervention, and an increased understanding of mental
health issues with a corresponding reduction in stigma and its many consequences
Mental Health in Texas:
1 in 5 adult Texans will experience a mental health concern at some point this year.
Over 20% of children ages 9-17 have a diagnosed mental illness.
Texas ranks 51 out of 51 in access to mental health care.
Meadows Report/ Mental Health in Texas

1 in 5
will face a mental health need
29,000
adults and children in Comal County with a mental health need
The Inspiration
We envision quick, easy access to quality, community-based mental health services throughout Comal County for families, children and adults. In order to accomplish this vision, we intend to work together to:
Promote community education and prevention
Develop a comprehensive continuum of locally available services
that addresses the needs of the community
Expand and improve access to services in communities surrounding New Braunfels
The McKenna Foundation convened local stakeholders with a Mental Health Task Force in 2014 and a Behavioral Health Leadership Team in 2017 to turn inspiration into plans for impact, resulting in several life changing community resources.