trustees
The McKenna Foundation 2023 Trustees: The leadership behind the vision.
Melissa Krause

Chair

Melissa Krause is the Executive Director of Communications and External Affairs at New Braunfels Utilities. A lifelong resident of New Braunfels; she and her husband Sherman are active volunteers in the community. When not enjoying time with their daughter and three boxers, Melissa prefers to be outside recharging with a walk. Melissa loves seeing the historical charm of New Braunfels preserved through the continuation of unique hometown events such as the Comal County Fair Parade, the Downtown Tree Lighting and Wassailfest.

David Glazener

Vice Chair

David Glazener serves as the Vice President of Finance at Christus Santa Rosa New Braunfels and the Alamo Heights Surgical Hospital. He and his wife Sabrina have raised three children in our community, all having attended New Braunfels Christian Academy. David and Sabrina are now enjoying being the proud grandparents of a granddaughter and sharing the culture and friendly atmosphere of New Braunfels with her. When not grilling for friends and family, David loves live music and the one-of-a-kind music venues in New Braunfels.

Lorrie Coles

Past Chair

Lorrie Coles is a proud mother and grandmother to one son, three daughters and three grandchildren. She and her husband, Dr. Ed Coles, love to get their large family together at the beach. Lorrie is inspired by the community involvement she has experienced since moving here in the early nineties. She has witnessed leaders step up at every level of school, faith, sports, non-profits, business and government. Lorrie knows that is why New Braunfels and Comal County continue to flourish.

Stephanie Bascon

Stephanie Bascon, formerly a full-time Attorney in New Braunfels, is Judge of the 466th Judicial District Court in Comal County. She and her husband Fabius are the parents of two sons, a daughter and a daughter-in-law. When not on the bench or volunteering in the community, Stephanie enjoys spending her downtime reading or traveling. She loves being able to live and serve in New Braunfels because it is such a tight-knit and caring community.

Joe A. Castilleja

Joe Castilleja is a proud, lifelong resident of New Braunfels. A graduate of New Braunfels High School and Southwest Texas State, Joe is currently Vice President of Community Banking for Frost Bank. Joe's love of our local community traditions and celebrations have led him to give back to his community in big and small ways. He serves as board member of Wurstfest, and has volunteered on the boards of Communities in Schools, Hope Hospice, the Cancer Society and served as chair of the Hispanic Mural Project. A past chair of the New Braunfels Chamber of Commerce, he was honored with the Besserung Award in 2018. Joe and his wife Kristi are parents to two grown children and Joe enjoys spending time together listening to live music and going to sporting events.

Cecil Eager

Cecil Eager is the owner of the Gruene Mansion Inn. He and his wife, Judi, enjoy being with family and friends. They are the proud parents and grandparents of one son, two daughters and nine grandchildren. When not doing home projects or pulling weeds, his pastimes include playing tennis and golf, working out and reading non-fiction. His favorite attributes of New Braunfels are its people, the "feels like being on vacation" atmosphere and the fact the city has an identity known across the state.

Julie Garcia

Julie Garcia is a contractor for an educational software company and an avid tennis player. She and her husband Bobby love the small town feel of New Braunfels but also appreciate the big city amenities such as good restaurants, fun activities and great places to shop. Julie and Bobby are the proud parents/grandparents of their daughter, daughter-in-law and one grandson. Julie feels our community's greatest assets are the people and overall friendliness of the community.

Robert Hunt

Robert Hunt is the VP of Regulatory Affairs and Business Operations at GVTC Communications. Together with his wife Susan, he has two sons and a granddaughter. When not golfing or hunting, Robert loves fishing in the nearby Comal and Guadalupe Rivers. Robert admires the friendly, helpful nature of New Braunfels and in this spirit gives time in service to Oakwood Baptist Church.

Timothy Owens

Timothy Owens is a medical doctor specializing in pediatrics entering his 40th year of practice in New Braunfels. As a founding member of New Braunfels Pediatric Associates, he has been instrumental in helping generations of local residents achieve a healthy start in life. He and his wife Mary are the proud parents of four grown children and relish their status as grandparents to three. When not caring for patients or volunteering, he can be found pursing interests in photography, travel, and fishing. Dr. Owens is proud of how our community pulls together in times of need, retaining the small town community spirit even in the midst of growth.
leadership
McKenna Team Members: Making the McKenna vision a reality.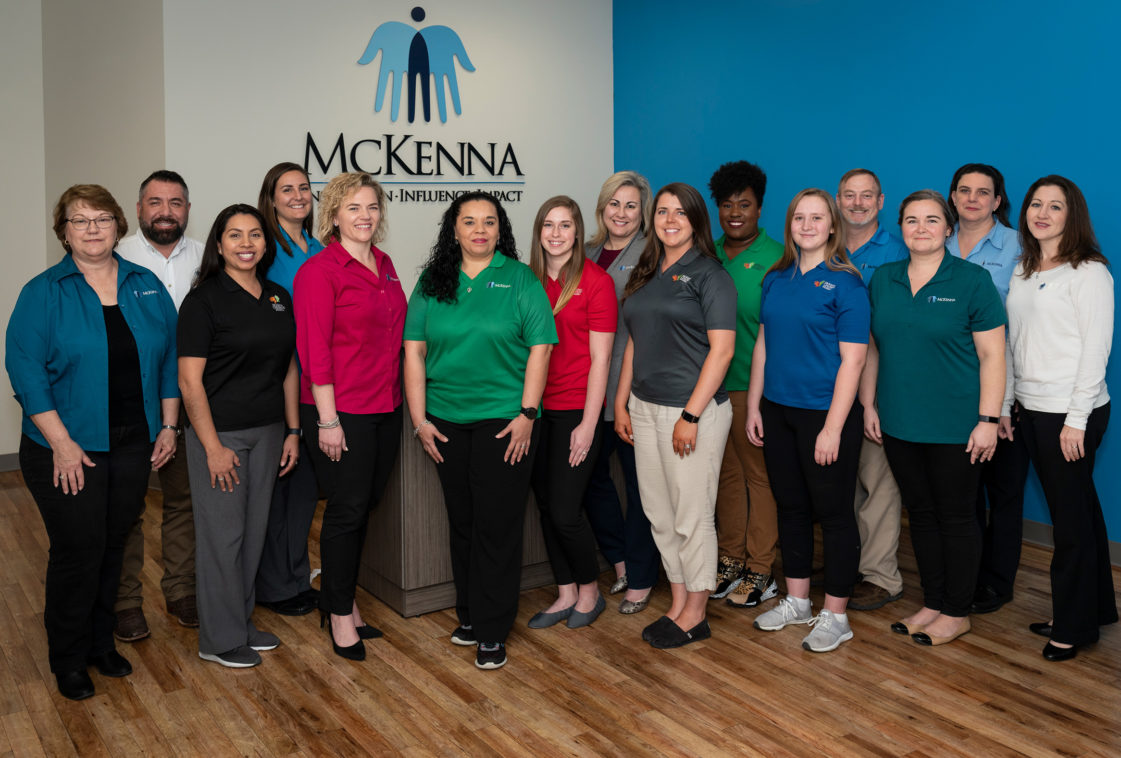 Alice Jewell

Chief Executive Officer

Alice Jewell is the Chief Executive Officer for the McKenna Foundation whose mission is to advance the well-being of the New Braunfels community. She has been with the Foundation since its inception in 2008, and with the McKenna organization since 2006. Prior to this role, Alice served as the Foundation's Executive Director, Director of McKenna Children's Museum and Director of McKenna Events Center. She oversees all aspects of the grant development process, as well as the Foundation's strategic planning and community collaborations. Alice received a BA in Communication from the University of Texas at Austin and a Master of Public Service and Administration from the Bush School of Government and Public Service at Texas A&M University.

Alice considers herself part of a fortunate group who get to realize their personal passion through their professional responsibilities. She grew up in New Braunfels, and is humbled to serve the community she loves through the exceptional opportunity for positive change at the McKenna Foundation.

Chandra Engelke

Chief Financial Officer

Chandy is the Chief Financial Officer for the McKenna Foundation. She has been part of the McKenna family since 1998 when she started in the accounting department of the McKenna Memorial Hospital. During her tenure she has been an accountant, then Director of Accounting and now serves in her current capacity. She earned a Bachelor of Business Administration/Accounting from Texas Lutheran College and is a Certified Public Account. Chandy appreciates the opportunity, afforded by her role with grants and programs within the Foundation, to see the numbers come to life in the community

Kristen Fain

Program Officer

Kristen is the Program Officer for the McKenna Foundation. Her career in Comal County began in 2004 in the community outreach department at McKenna Memorial Hospital. In her current role, she is responsible for coordinating the responsive grant process and working with the strategic initiatives of the Foundation. Kristen holds a Bachelor of Social Work from Texas State University and earned a Master of Science in Non-profit Management from Our Lady of the Lake University. Kristen's favorite aspect of our work is the opportunity to leverage her direct service experience in support of our non-profit partners.